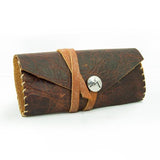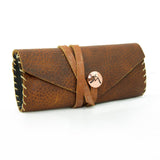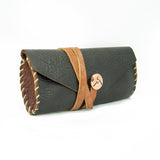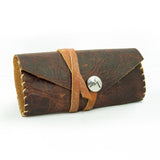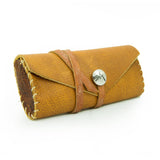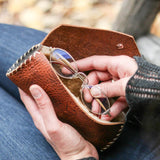 Leather Eyeglass Case with Coconut Birch Strap
$ 79.00 $ 79.00
The Cold Mountain Eyeglass Case is made for the most respectable spectacles. Lined with a soft New Zealand sheep shearling. A fortified inner shell provides extra protection. 
The dimensional case features a second color on the side, and is wrapped with our custom Coconut Birch leather strap. Keep your glasses or other delicate treasures in rustic style!
Dimensions:
7.25" x 3.25" x 2.25" | 5.0 oz.
Materials:
All Cold Mountain goods are homecrafted by hand with our signature series of oil-tanned, American-born bison leather and ivory-toned Irish waxed linen. Choose between either the two-tone combination of Merlot Saddle and Honey Ginger with nickel plated accents or Whiskey Ember and Midnight Espresso with copper plated accents.